Company Profile
The year 1932 was a watershed moment in the interconnect industry; a moment that would help pave a pathway of innovation and ingenuity for nearly a century and the year our parent company, Amphenol Corporation, was founded just outside of Chicago, Illinois.
Amphenol is one of the world's largest providers of high-technology interconnect, sensor and antenna solutions. Amphenol-brand products enable the electronics revolution across virtually every end market, including Automotive, Broadband Communications, Commercial Aerospace, Industrial, Information Technology and Data Communications, Military, Mobile Devices and Mobile Networks. Amphenol trades on the New York Stock Exchange under the ticker APH and is headquartered in Wallingford, Connecticut, USA.
Amphenol has enjoyed unparalleled growth in recent years, both within the United States as well as abroad, cementing its status as the second-largest interconnect company in the world. This spectacular growth has been driven in-part through the strategic acquisition of dozens of specialized business units, each focusing on a particular niche market or part of the component supply chain. Our organization, Amphenol Cables on Demand, is just one of the well over 100 Amphenol-owned companies operating today; operations that span the globe in over 40 different countries.
This strategic global vertical alignment of advanced engineering and manufacturing capabilities provides Amphenol with the capacity to build every component of an interconnect pathway in-house. Whether it is advanced high-bandwidth parallel pair SKEWCLEAR cable for high-speed network applications from Amphenol Spectrastrip, innovative high-speed connector/cage/backshell designs by Amphenol TCS, or laser-welded and fully-qualified cable assemblies from Amphenol High-Speed Interconnects, no capability is out-of-reach.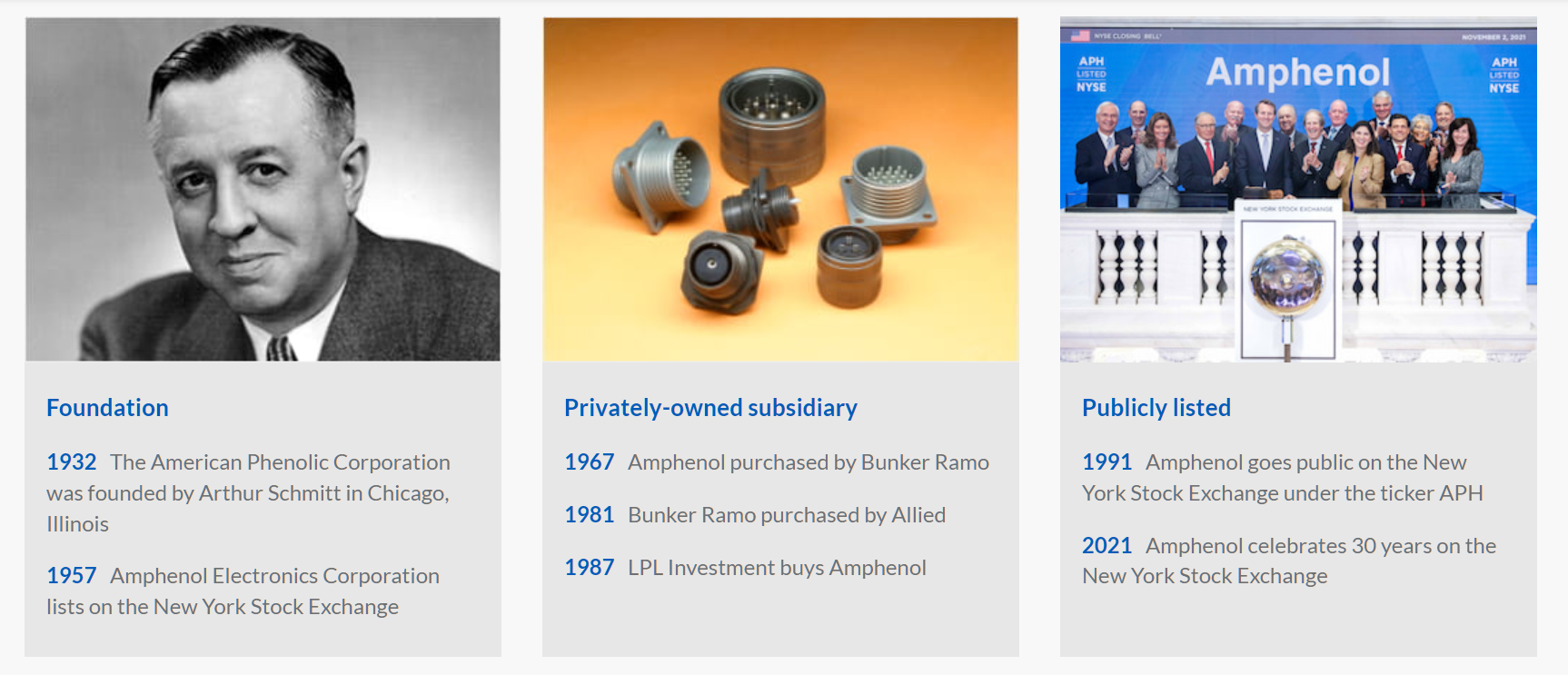 Amphenol's growth and breadth of capability driven business model has allowed them to prosper and outperform the competition in a business climate marked by major supply chain disruptions. Engineers and IT Professionals worldwide rely on genuine Amphenol-brand products for their mission-critical systems and equipment designs precisely because they know Amphenol-brand products can be purchased at competitive prices, scaled up to meet the demands of any project, turned around with the industry's best lead-times and produced with such precision and emphasis towards quality and reliability, no other brand can compare.
Amphenol's contribution to the interconnect industry as a whole cannot be understated and can best be viewed through the prism of their historical product launches. Amphenol doesn't just build to a standard, they're often the ones who set the very standards that the industry will ultimately follow.
Such examples include the infamous RF coaxial cable connector known as the BNC, named after the connector mating style and the last initials of each of its principal designers -- (B)ayonet-locking (N)eal (C)oncelman. Since its debut shortly after the second world war, it has become the single largest 50-Ohm RF connector ever produced with a projected 100+ million BNC connectors in active use today; installed on equipment and cable assemblies alike. Similarly, Amphenol's 25-pair 50-pin Telco connector, the RJ21, proved so ground-breaking and popular that it is referred to simply as the "Amphenol Connector".

Our division of Amphenol Corporation, Amphenol Cables on Demand (ACD), debuted in December of 2006 with the official launch of the Cables on Demand website (https://cablesondemand.com). We are a unique entity within the Amphenol family of companies in that we function as both a manufacturer of our own family of cable products, while also serving as an "in-house distributor", where we've partnered with several other Amphenol divisions worldwide to offer standardized off-the-shelf versions of the interconnect solutions they sell directly to their OEM clients.
Those strategic Amphenol partnerships allow us to carry products from Amphenol High Speed Interconnects (AHSI), Amphenol Active Optical Cables (AOC), Amphenol Interconnect Products Corporation (AIPC), Amphenol XGIGA, Amphenol Connex and Amphenol Audio (Australia). We strive to keep our product catalog up-to-date with the latest industry developments and our Amphenol partners help ensure we remain on the leading edge of their new product pipeline(s); offering access to products that might not otherwise be available for sale to the general public at the time of launch.
By keeping the aforementioned parts in our inventory, we're often utilized by OEM', as well as their integrators or target customers, whenever they need cables in small non-production quantities and can ill-afford to wait for typical production lead-times. This makes Cables on Demand an ideal resource for acquiring small quantities of products for use as customer cable samples, test cables destined for engineering and/or supplier qualification testing, emergency cable replacements after natural disasters, or for smaller scale network upgrades and build-outs where quantities in the tens to hundreds of pieces is appropriate.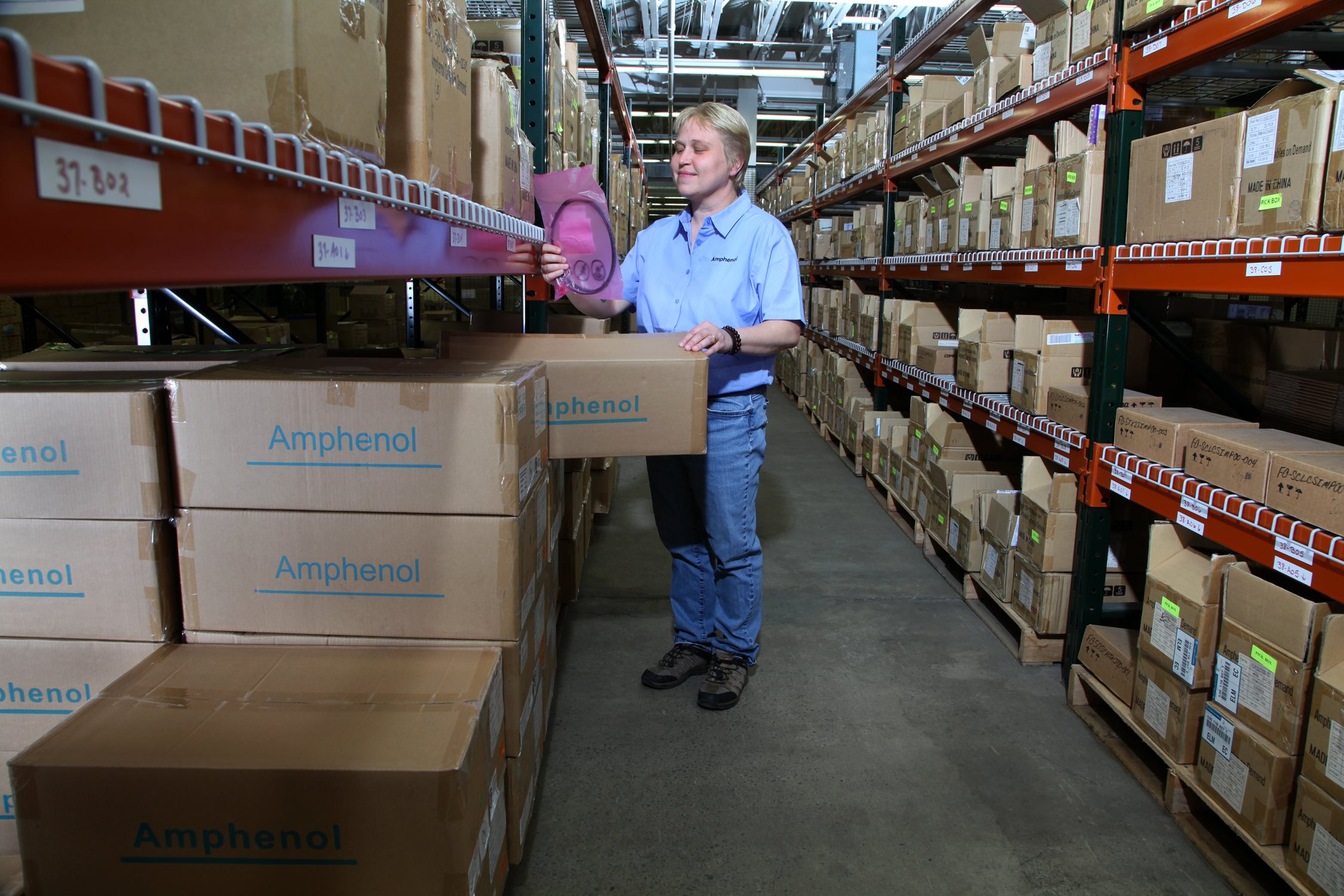 Perhaps our brand is best represented by our extensive line-up of over one-thousand (and growing) unique cable part numbers produced and sold under the Amphenol Cables on Demand brand umbrella. Our chief in-house product focus centers around fulfilling customer requirements for industry-standard commercial off-the-shelf patch cable solutions for nearly every type of data, network, computer, telecom, RF, test and instrumentation I/O application imaginable, from which we strive to make available, when applicable, in numerous configurations (i.e. length, color, wire size, jacket material, shielding layers, etc.) to accommodate almost any project.
Of our extensive selection of products sold under our own Amphenol Cables on Demand brand, three product families in particular serve effectively as our product catalog "cornerstones". Of the three, it is our extensive selection of Network Patch Cables that drive the largest segment of our sales. Since our inception, we have produced well over 1-million Network Patch Cords (CAT5e/CAT6/CAT6a) with an industry-leading 0% failure rate.
This is why the world's leading server/storage hardware manufacturers (HP/DELL/ORACLE) and their integrator partners utilize genuine Amphenol Cables on Demand brand Network Patch Cables in their large datacenter server rack build-outs. While many competing patch cords on the market may technically "built to spec", the true measure of a network patch cable is whether it is "fully tested and qualified to spec".
Should your application require a cable very similar to what we have in inventory, but in a custom jacket color, jacket type, jacket label and/or cable length, please contact our Customer Service team, toll-free, at 1-866-223-2860 or via e-mail at customerservice@cablesondemand.com. Please make note of your specific cable requirements, projected annual usage estimates, requisite lead-times and a target price range, when applicable. Please note a minimum buy requirement may apply to custom cable requests.
For all of our regularly-stocked products located on the Cables on Demand website, there is absolutely no minimum or maximum buy -- EVER. If you require more of a particular part number than the inventory shown on the website as being "in-stock", simply order the quantity needed when you add-to-cart. We will ship you the on-hand inventory and immediately order the remaining balance due. Our Customer Service team will work vigorously to expedite the remainder of your order with our global supply-chain resources.
At Amphenol Cables on Demand™ (ACD), we guarantee our interconnect products to be of the highest quality as demanded by our largest OEM customers. Only premium materials and quality engineering are used in the design and manufacturing of our Amphenol Cables on Demand™ product offerings. ACD takes great pride in our compliance with global industry standards and environmental compliances, such as UL, CSA, and RoHS compliance. ACD offers thousands of cables in stock and same day shipping for most orders made before 3pm eastern. ACD's fulfillment warehouse is built with state of the art systems and equipment to guarantee expedited shipment of your order.
As a commitment to offering high-quality, reliable, and on-demand products, ACD continually tests and develops new products to meet the growing needs of today's customers and tomorrow's future applications. To maintain position for the highest standard of excellence in an ever-changing market, Cables on Demand continues to embrace the latest technology and relentlessly improve the product quality, breadth, and innovation. Exceeding customer expectations will always be our benchmark for providing top-tier customer service.
Supply Chain
We continually evaluate our suppliers to confirm that they are acting to ensure the sustainability of our world while behaving as responsible global citizens. We work to promote fair labor practices throughout our supply chain and prohibit the use of forced, bonded and indentured labor. Our commitment against the use of conflict minerals is resolute and our programs are comprehensive. We actively survey our supply chain on an annual basis to ensure compliance with our policies.
ESG DOCUMENTS
Amphenol's high-performance culture of entrepreneurial accountability is uniquely powerful in ensuring a sustainable future. By giving our local management around the world the authority to run their respective businesses, the entire Amphenol organization is empowered to truly "think globally, but act locally."
View our Sustainability Report to learn about our approach and progress on the environmental, social, and governance (ESG) issues most significant to our business.